WASHINGTON (CNN) -- The rate of suicides among-active duty soldiers is on pace to surpass both last year's numbers and the rate of suicide in the general U.S. population for the first time since the Vietnam war, according to U.S. Army officials.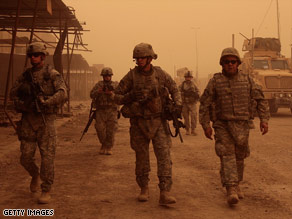 Officials attribute the rise in suicides to anxiety and stress from increased operations and more deployments.
As of August, 62 Army soldiers have committed suicide, and 31 cases of possible suicide remain under investigation, according to Army statistics. Last year, the Army recorded 115 suicides among its ranks, which was also higher than the previous year.
Army officials said that if the trend continues this year, it will pass the nation's suicide rate of 19.5 people per 100,000, a 2005 figure considered the most recent by the government.
The rise can be attributed to the increased pace of combat operations, the number of deployments and financial and family troubles connected with deployments, Army officials said.
"Army leaders are fully aware that repeated deployments have led to increased distress and anxiety for both soldiers and their families," Secretary of the Army Pete Geren said. "This stress on the force is validated by recent studies of Iraq and Afghanistan veterans reporting symptoms of post-traumatic stress disorder or major depression."