CNN)
-- Former Bush adviser Karl Rove said Sunday that Sen. John McCain had gone "one step too far" in some of his recent ads attacking Sen. Barack Obama.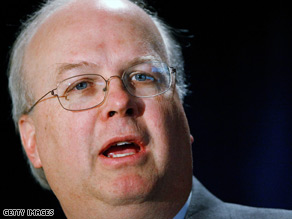 Karl Rove said both candidates are guilty of going too far in their attacks.
Rove has leveled similar criticism against Obama.
"McCain has gone in some of his ads -- similarly gone one step too far," he told Fox News, "and sort of attributing to Obama things that are, you know, beyond the '100 percent truth' test."
The Obama campaign immediately leaped on the quote.
"In case anyone was still wondering whether John McCain is running the sleaziest, most dishonest campaign in history, today Karl Rove -- the man who held the previous record -- said McCain's ads have gone too far," said campaign spokesman Tommy Vietor, in a statement sent to reporters minutes after Rove's on-air comments. Rove masterminded both of President Bush's successful White House bids.
Rove said both candidates need to "be careful" about their attacks on each other.
"They ought to -- there ought to be an adult who says, 'Do we really need to go that far in this ad? Don't we make our point and won't we get broader acceptance and deny the opposition an opportunity to attack us if we don't include that one little last tweak in the ad?' " he said.
Obama on Saturday accused McCain and vice presidential candidate Sarah Palin of avoiding the issues to "distort" his record.
Don't Miss